Sunni militants swept rapidly Wednesday toward Iraq's capital, Baghdad, facing almost no resistance as they wrested control of Saddam Hussein's hometown of Tikrit from Iraqi forces — part of a fast-moving advance prompting fresh concern in Washington that hard-fought gains during nearly a decade of U.S. occupation of the Mideast country are slipping away.
The surge by extremists loyal to the al Qaeda-inspired Islamic State of Iraq and the Levant (ISIL) also has triggered fears of a return of the sectarian civil war between Sunni and Shiite Muslims that tore through Iraq during the middle years of the U.S. occupation.
Moktada al-Sadr, the influential Shiite Iraqi cleric whose followers were accused of some of the most horrific atrocities inflicted on Sunnis during the 2006-2007 war, called Wednesday for the creation of a special forces outfit to defend religious sites in Iraq.
---
SEE ALSO: Desperate Iraq asks for U.S. airstrikes, as U.S. prepares to empty embassy
---
His statements, reported by government-backed media in neighboring and Shiite-dominated Iran, came as the ISIL faced resistance Wednesday on the outskirts of Samarra — a city considered sacred by many of the region's Shiite Muslims and located about 70 miles north of the Iraqi capital.
The violence near Samarra came one day after the ISIL fighters had seized control of large sections of the northern city of Mosul, Iraq's second-largest city. The development, which unfolded swiftly Tuesday, was seen by many as a major challenge to the government of Iraq's Shiite prime minister.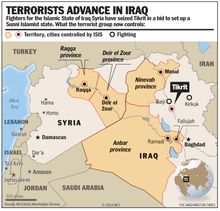 But the ISIL fighters weren't finished. Throughout Wednesday they engaged in a lightning advance southward, trampling checkpoints and key security posts in the major oil-refining town of Biaji as well as in Tikrit, where Iraqi military forces were reported to have laid down their weapons and walked away from their posts without a fight.
---
SEE ALSO: Sunnis spread chaos in absence of U.S. security in Iraq
---
The publicly stated goal of the ISIL — which grew out of a group originally known as al Qaeda in Iraq following the U.S. military occupation of the nation — is to establish an Islamist Sunni caliphate straddling territory that spans across the Syria-Iraq border.
Some news reports have said that the ISIL commands as many as 10,000 fighters spread across Iraq and Syria.
One U.S. counterterrorism official, who spoke on condition of anonymity Wednesday, said that inside Iraq the group has about 2,500 fighters.
However, the official said that the ISIL is now "at its strongest point since 2006," controlling territory that has allowed its fighters to "plan attacks against Iraqi government targets in Baghdad and Shiite communities in central and southern Iraq."
In December, ISIL fighters seized the Sunni-dominated city of Fallujah, 40 miles west of Baghdad. Recent weeks saw the group launch attacks near Samarra.
But the sheer speed and scope of the wider assault over the past two days — clearly aimed at seizing a vast swath of new territory — has shocked regional authorities, including the government of Turkey, whose diplomats were taken hostage during the rampage.
Turkish concerns
The Obama administration, facing criticism from Republicans, who argue that the White House moved too quickly in pulling all U.S. forces from Iraq in 2011, acknowledged Wednesday that the violence may now be spinning out of control.
"The situation in Iraq is grave," White House spokesman Josh Earnest told reporters traveling Wednesday with President Obama in New England. "There is no doubt that the situation has deteriorated over the last 24 hours."