Photos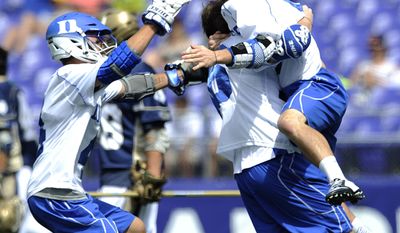 Quotations
"Nothing we teach is too crazy," midfielder Brendan Fowler said. "We just stick to the basics, we repeat them over and over and everyone has good fundamentals. ... I just think it's a testament to how he coaches us and prepares us. We don't reach our peak, usually, until May starts. The team we are Feb. 1, we're not going to be the same team the next week. ... We're always going to be a little bit better every week going forward."
Duke lacrosse headed to 8th straight Final Four →
"Obviously winning faceoffs and getting the ball back makes it a lot easier to score goals," said Fowler, a walk-on special teams player on Duke's football team. "But early, I violated (the faceoffs circle) a few times and kind of let it get into my head a little bit. Once I cooled down a little and stuck to what I do every day, we got into a groove there and it just felt pretty good going out there every time."