First Sergeant Matthew Corrigan fought insurgents in Iraq with weapons provided by the U.S. Army, but the nation's capital saw fit to throw him in jail for two weeks simply because he failed to register three personal guns and some ammunition.
(This is part three of a four-part series on Sgt. Corrigan's case. Click to read part one and part two of the story.)
Normally, being accused of a misdemeanor charge would not result in such an extensive punishment, but the District was so careless that it "lost" Sgt. Corrigan in the correctional system. All this happened because this military veteran was exercising a constitutional right that the District refuses to recognize.
Sgt. Corrigan's ordeal began at 4 a.m. on Wednesday, Feb. 3, 2010 when the Metropolitan Police Department (MPD) arrested him without charges at his home and took him to the Veterans Administration Hospital because they supposedly believed the Army reservist was suicidal.
To avoid being involuntarily admitted, which would have affected his military career, Sgt. Corrigan agreed to admit himself to the hospital to get some well-needed rest after the emotional experience of having a SWAT team wake him up in the middle of the night, pointing fully automatic assault weapons at his chest.
Police Custody
On Friday, Feb. 5, two police officers met Sgt. Corrigan inside the hospital. They handcuffed him and took away his shoelaces. For the first time since having his hands zip-tied and forced into a police command vehicle three days earlier, the police finally read the soldier his Miranda rights.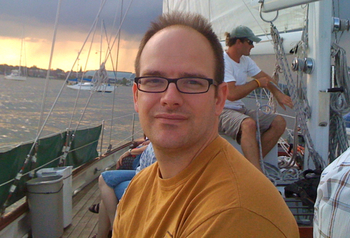 He was charged with three counts of unregistered guns and seven counts of possession of ammunition.
In May, the District revised its firearms laws so that it is no longer illegal to have ammunition in a different gauge or caliber than your registered gun — a change that came two years too late for Sgt. Corrigan.
The police took the first sergeant to the 5th district station, where they put him in an open booking cell before questioning.
There was a huge snowstorm starting in the District that day — later dubbed "snowmaggedon" — but police took their time moving Sgt. Corrigan through the booking process.
Sgt. Corrigan's then-girlfriend, now-wife, Chetna Lal drove to go to the 5th district police station to meet him in early afternoon. The police refused to let her see him, telling her to wait at D.C. Superior Court for his arraignment.
After a while, Sgt. Corrigan agreed to sign a waiver to be interrogated. Officers asked the drill sergent about the details of each gun, such as where he bought it and its purpose. Afterwards, they put him back into the cell.
He was called out of his cell once more to be taken to a city mental health clinic to be evaluated. The doctor determined that he was not a suicide risk, and sent him back to the police station.
Due to the storm and late hour, Sgt. Corrigan said most of the other people in police custody were released with an order to come back for arraignment at a later date. He asked an officer to check on his case, who he said told him that, "'You know what you're in here for, there's no way you're being released.'"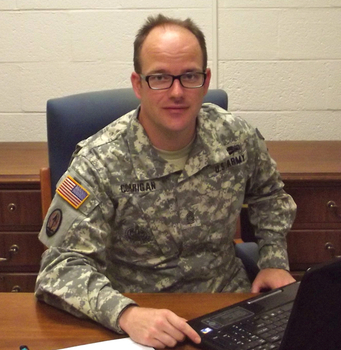 Finally in the evening, the police put those remaining in custody in a van around to be transferred to the courthouse. On the way, officers told them that the court closed early because of the snow.
Jailed without a Hearing
When he arrived, Sgt. Corrigan was booked and put in the central jail to wait for a hearing. Ms. Lal had been waiting all day, but was never allowed to see him.
"They said that maybe they would be able to arraign us on Saturday morning," recalled Sgt. Corrigan. "Then Saturday came, and they said court was closed, and it would have to wait until Tuesday because Monday was closed because of the snow."
Without a hearing or even a phone call, Sgt. Corrigan spent four nights in central. He said the worst part was trying to sleep through the "nighttime screamers."
While the soldier had spent a month living on a rooftop in Iraq, he called D.C. central jail, "the worst place" with "roaches everywhere you looked" and "rats running between the cells." The only food provided was a bologna sandwich on white bread with mayonnaise and a cup of kool-aid.
He was still in jail on Monday so could not call in to explain his absence from his job as a statistician at the Bureau of Labor Statistics.
Public Defender Goes MIA
Early Tuesday morning, Sgt. Corrigan was moved from the central cell into custody of the U.S. Marshals. Since he hadn't been been allowed to make a call to hire an attorney, he was assigned a public defender. The lawyer asked some questions about the case, but by the time his name was called by the judge, his court-appointed attorney was gone.
"None of the public defenders seemed to take anything really seriously," the experienced drill sergeant said in an interview. "It was more of moving the cattle through."
Another public defender, who knew nothing about the case, merely pleaded not guilty. The judge set the next court date and remanded Sgt. Corrigan to a halfway house.
Later, he was told that due to the snowstorm, there was no room for him in a halfway house so he had to go to D.C. jail. That meant he had to turn in his clothes and change into an orange jumpsuit, go through a medical evaluation and be classified.
'Lost' in Jail
Sgt. Corrigan's family and friends were desperate to find him, but they were unable to because city bureaucrats didn't bother to enter his correct name or birthdate into the system. That made it impossible for anyone on the outside to locate him.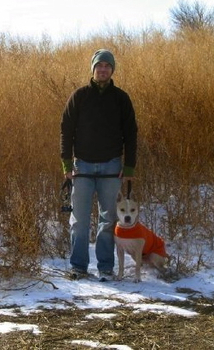 Ms. Lal found it easier to track down Sgt. Corrigan's beloved dog, Matrix, who was sent to the pound by animal control after his arrest.
The Superior Court arrest affidavit gave the defendant's name as "Matthew Carrigan." The arrest warrant also has the wrong birth day and month. The MPD arrest report from Officer Dino McFadden also had the same incorrect information.
The police did know Sgt. Corrigan's actual name. MPD Lt. Robert Glover report to Police Chief Cathy L. Lanier on Feb. 9 (written while Sgt. Corrigan was in jail) gave the soldier's correct name and birth date. The emergency response team's incident report dated Feb. 3 also has the correct information.
A spokesman for MPD refused to comment on this case. The D.C. attorney general's office also declined to comment.
To make matters worse, when Sgt. Corrigan arrived at the jail, the administrator wrote his last name on the prison wrist badge as "Carrington." He protested, saying no one will be able to find him with the wrong name on his records, but was assured that he could be found with his prison identification number. Not so. The problem was that this jail ID was associated with the wrong name and wrong birth date.
Ms. Lal was turned away from the prison four times as she desperately attempted to find him. "I think this kind of thing would happen in India," she said of the country of her birth. "But not in a billion years would I think this would happen in the United States of America."
Without any contact with the outside world or knowledge of when his ordeal would end, Sgt. Corrigan steeled himself for getting along as best he could in the system.
'21 Guns'
Possessing firearms in the District will make you a target for criminals. When Sgt. Corrigan was arraigned, the line of other defendants in court waiting their turn heard the gun charges against him. Word quickly spread through the jail population that the soldier was a source for illegal guns. The inmates nicknamed him "21 guns" and constantly badgered him for help in securing firearms for them on the outside.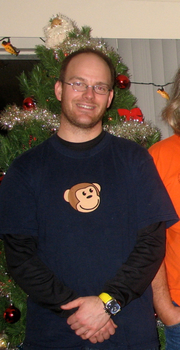 The gun association would normally make an inmate safer on the inside, but as part of the processing, the administrators repeatedly asked Sgt. Corrigan for information in front of the other inmates, including his home address. "21 guns" quickly realized that all those in jail asking him to get them weapons on the outside could easily show up later demanding a firearm. After about five days, he requested to be put in protective custody.
The conditions in protective custody turned out to be worse than the general population. He was locked in his cell for 23 hours a day. When he was taken to any kind of administrative appointment within the jail, he was shackled and chained.
Sgt. Corrigan had his own cell for a few days, then he got a cellmate who he described as looking like John Walker Lindh, the American Taliban.
One night, the sergeant woke up in his bottom bunk to find his cellmate holding a towel around his neck trying to strangle him. The experienced military man was able to throw off the deranged attacker until the correctional officers showed up for a regular check.
Soldier Resurfaces
Finally, a friend who is a naval JAG succeeded in tracking Sgt. Corrigan down in the jail. With the prison ID number, Ms. Lal was able to hire an attorney to represent him at a Feb. 19 status hearing. With decent legal representation, he was finally released on his own recognizance at 12:30am on the 20th.
He returned home 17 days after his shocking arrest to an apartment ransacked by the police, with the front door left unlocked and unsecured. His expensive tropical fish were all dead. He found a paper saying that if he didn't pick up his dog, Matrix, within three days, the canine could be "euthanized." Thankfully, Ms. Lal had navigated the city bureaucracy to rescue the soldier's beloved dog just in time.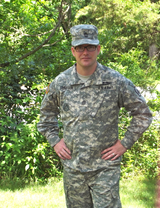 Sgt. Corrigan returned immediately to his job and his military duties, but a black cloud hung over him. Although the government dismissed all the charges against him in May, he had already spent two years following the conditions of his court release. He checked into the courthouse weekly, attended mandatory mental health appointments and weekly urine testing for drugs.
The D.C. court also banned him from touching a firearm. "They basically took away my military career for two years," he said. The reservist continues to serve one weekend a month and two weeks in the summer, which he will begin this month.
The armed forces had trusted Sgt. Corrigan to carry deadly weapons, and still does, but the District does not. This soldier was thrown in jail for doing something that is a crime only in Washington. As if that weren't enough, he was not given a chance to hire decent legal representation and "lost" in a system with no way to contact loved ones.
Sgt. Corrigan faced all these traumas while he was still learning to cope with nightmares from his year of service in Iraq. The District needs to change its laws and reform its systems so that this never happens to anyone again.
Next in the series: Police Coverup Warrantless Search of Iraq Vet's Home
"Emily Gets Her Gun" is a series following senior editor Emily Miller as she tries to legally get her hands on a gun in the nation's capital. You can also follow her on Twitterand Facebook.