Recently, two blocks from my home, a man was attacked on the street by armed thugs who stole his laptop. So far in 2012, violent crime is up 8 percent in Washington, D.C., with the three biggest spikes coming from sexual assaults (up 47 percent), armed robberies (up 20 percent) and assault with a firearm (up 15 percent). There has been a huge increase in robberies because the criminals are using guns to get iPhones.
All this made me realize again that I need to do whatever I can legally to defend myself in this crime-ridden city.
(This is a new series on self-defense in Washington, D.C. Click here to read part 1 and click here to read part 2.)
I checked the Metropolitan Police Department's (MPD) now-updated website, but none of the links led to the mace registry information that Police Chief Cathy L. Lanier promised. So, I put "self-defense spray" in the search box and found a page on the topic. It doesn't seem to be hyperlinked to anywhere else on the site, not even the section labeled "personal safety."
Thinking back to what MPD Detective Kim said when I reported a life-threatening call earlier in the year, I decided to go back to police headquarters to get a registration form for self-defense spray. When I arrived, I was surprised to find out that the Gun Registry Office is also tasked with registering mace.
It was about 1 p.m. and just like all the times I've been to the District's gun registry, I was the only one there, other than the cops. Despite what City Council Chairman Phil Mendelson thinks, this is not because people aren't getting guns in Washington.
The bad guys are just buying them off the streets, and the good guys are not jumping through the hoops required to tell the government about their firearms.
In the empty gun registry office, a female officer was sitting at a desk eating when I entered. I stood at the counter that comes up to my chest, and yelled to her, "I heard this is the place to get mace registration cards."
She laughed, but didn't get up from her desk. "Is it not?" I asked.
"Not plural," Officer Alicia Kornegay said.
"What does that mean?" I asked. She then slowly walked to the front counter.
"You said 'registration cards'?" she asked.
"I might want to buy more than one can of pepper spray," I replied. She asked how many I was getting, and I replied that I hadn't yet decided.
"We can't supply one person with a whole bunch [of registration forms]," she said.
"Why not?"
"That's just our policy. Each person has to come in," she said. I felt my blood pressure rise. The one phrase you'll hear more than even "gun" in the registry office is "policy." These officers have very little ability to think outside the box, but they sure know the policies well.
"Who's it for?" the officer asked me. I said for myself.
"Have you bought it already?" she asked. I had not.
"Are you a D.C. resident?" Officer Kornegay queried. Yes.
The pepper-spray inquisition finally stopped when she handed me a piece of paper that said "Registration of self-defense spray instructions."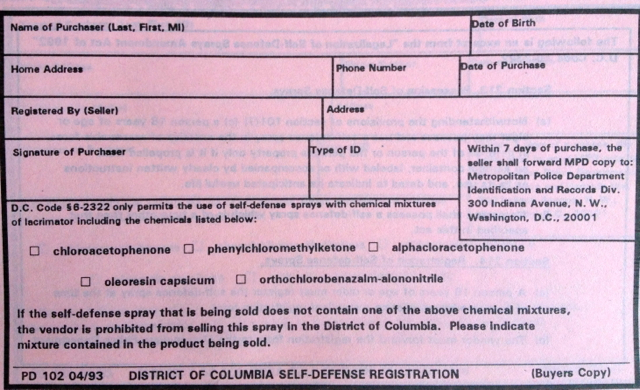 Then the officer carefully passed me one 3x5 pink form. I held my hand out, and she paused before grudgingly giving me one more. It seems the "policy" must be not to waste pink papers in case there is a rush of people wanting to register their pepper sprays.
The small duplicate form was the kind with different colors that went out of style in 1985 except at the police department in Washington. The font was less than 8pt. I squinted to read it.
"So I just fill the form out and then mail it back here?" She nodded yes. Now, this is different than the law states — and what Detective Kim told me — about the seller having to send the form to MPD.
"Do you know where I can buy it?" I asked her.
"I don't think there are any stores in D.C. I can't direct you to a store. I can't be partial to one store. You have to go on the internet… or try Maryland," she said.
I was having flashbacks of a similar conversation when I first went to this office in Oct. 2011 to ask how to register a gun. As it is their full-time job to register guns and mace, one would think they would have a suggestion about where to buy either item. That's not the case.
I asked about regulations on what kind of sprays you can get, having never bought one myself. "They have to have that ingredient here," the police officer said, pointing to five tiny boxes with tiny type on the pink form.
The boxes indicated five very long chemicals: alphacloracetophenone, phenylchloromethylketone, orthochlorobenazalm-alononitrile and oleoresin capsicum.
I later checked back in the D.C. code and one legal spray, chloroacetophenone, was not listed. Of course I haven't a clue what any of these chemicals are, but I will have to recognize them in order to pick out a can eligible to be registered.
"What if the can has something other than those?" I asked, trying to avoid having my mace registration rejected.
"It can only have those. It can have all of them or one of them." she replied, reminding me of the conversation a year ago in this office about the very specific guns that were legal to be registered in the District.
As I turned to leave, I noticed two computers set up in the waiting area for potential gun owners to use to watch the 30-minute video which replaced the 5-hour mandatory gun class.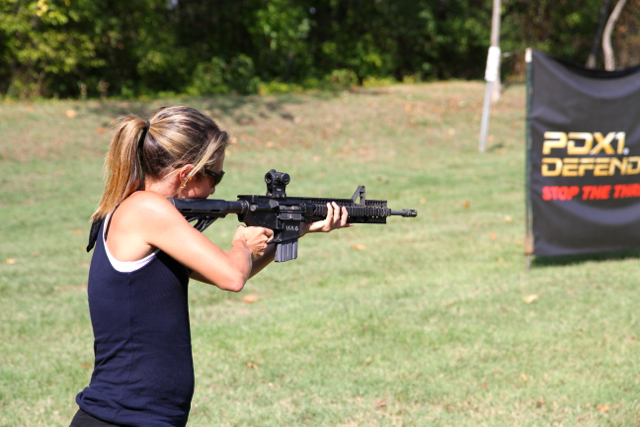 Since I hadn't been to the office since the new firearms ordinance took effect July 1 — the changes made it marginally easier to register a gun for the home — it occurred to me that I should check out if they were adhering to everything in the new code.
So I asked Officer Kornegay for the gun registration forms.
"You want it all? You want to get mace and a gun?" said the police officer.
"You never know," I replied.
"I guess you can't be too safe nowadays," she said.
"And crime is going up in this city," I said. She agreed, then corrected herself.
"Everywhere, not just here," said Officer Kornegay
"No, crime is going down everywhere else. It's only going up here in D.C." I explained.
"Really?" she asked.
"Yep. Maryland and Virginia — both way down," I said.
"Prince George's County?" she asked, referring to the second-worst place for crime in the metropolitan area.
"Down. D.C. has 600,000 residents. Prince George's County has 880,000. And D.C. had 108 murders last year and P.G. County had 81," I said.
"How do you know all this?" she asked. It still astounds me that I've been writing about the failures of this registry office for a year now, but they never recognize me.
"It's on your website," I said plainly.
"But how much on there is actually factual? Is it really accurate?" she asked, referring to the MPD website that provides real-time accounting of crimes in the city for the public. "I just don't trust statistics and facts all the time."
I thanked Officer Kornegay for her help. She kindly bid me a "Be safe!" on my way out the door.
Now I have to find how where to buy mace in Washington and who must send in the registration form to be legal.
In the meantime, I'll walk briskly on the streets.
NEXT IN THE SERIES (PART 4): Buying mace in D.C.
Emily Miller is a senior editor for the Opinion pages at The Washington Times. Her "Emily Gets Her Gun" series on the District's gun laws won the 2012 Clark Mollenhoff Award for Investigative Reporting from the Institute on Political Journalism.You can also follow her on Twitter and Facebook.