Your taxpayer money has gone to fund Jell-O wrestling at the South Pole.
That's among the dozens of eye-opening findings in a new report by the Senate's top waste-watcher, Sen. Tom Coburn, on money spent by the National Science Foundation, a federal agency that Mr. Coburn says is an example of the kinds of spending the government no longer can afford in the midst of record deficits.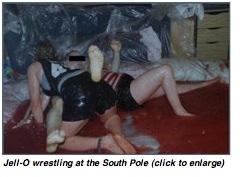 Mr. Coburn says he identified more than $3 billion in mismanagement at NSF, ranging from questionable studies to exorbitant operating costs, and in some cases the agency duplicates operations performed by other agencies.
"There is little, if any, obvious scientific benefit to some NSF projects, such as a YouTube rap video, a review of event ticket prices on stubhub.com, a 'robot hoedown and rodeo,' or a virtual recreation of the 1964/65 New York World's Fair," Mr. Coburn said in a letter to taxpayers he wrote introducing the 73-page report, documented by more than 350 footnotes.
The agency has an annual budget of $6.9 billion and accounts for about one-fifth of all national taxpayer-funded research at colleges and universities.