A raw nerve was struck among Sarah Palin supporters on Tuesday night when Ann Coulter, conservative author and columnist, did the unfathomable. She criticized former Alaska Governor Sarah Palin on Fox News. Joining Laura Ingraham, who was subbing for Bill O'Reilly on the O'Reilly Factor, Coulter compared Palin's supporters to those who follow President Obama blindly.
"Most Americans don't want Sarah Palin for president," Coulter explained. "But she's become sort of the Obama of the tea party. She's just 'The One' to a certain segment of right-wingers. And the tiniest criticism of her…I think many of your viewers may not know this…no conservative on TV will criticize Palin because they don't want to deal with the hate mail. You say her voice is a few octaves too high, or perhaps Michele Bachman's speaking voice is more modulated, and you will be inundated with enraged emails."
Former Daily Caller reporter (now with Yahoo) Chris Moody experienced blowback from Palin last spring when her people went after him for "burying" her quotes on the story's second page.
Daily Caller reporter Alex Pappas was also on the receiving end of Palin's ire when a story he wrote about Palin being undecided about who she would endorse was later picked up elsewhere with a headline wrongly stating she would endorse Mitt Romney.
Coulter was also critical of Palin's reluctance to jump into the race, saying: "Newt Gingrich carried it on for 15 years and I kind of think that might be what we're getting here, largely because of the polls. I mean, you just showed the Fox News poll. Gallup took a poll — I don't know — five, six months ago, showing that … 65 percent said they would never definitely, positively, ever vote for Sarah Palin."
"I got sick of it with Newt Gingrich, too: Fish or cut bait," Coulter said, "because you are ginning up this group of Americans who will not even consider anyone else. You know, we used to all love Sarah Palin — conservatives like me — for her enemies. I'm starting to dislike her because of her fans. And she does get things wrong … I think she's bright, but her good points do not seem to be in the direction of running for president. I sort of wish, just like Newt Gingrich: Just run so we can get this over with."
What was the reaction of Palin supporters on Twitter to Coulter's remarks? Here is a sample:
(*Warning-strong language)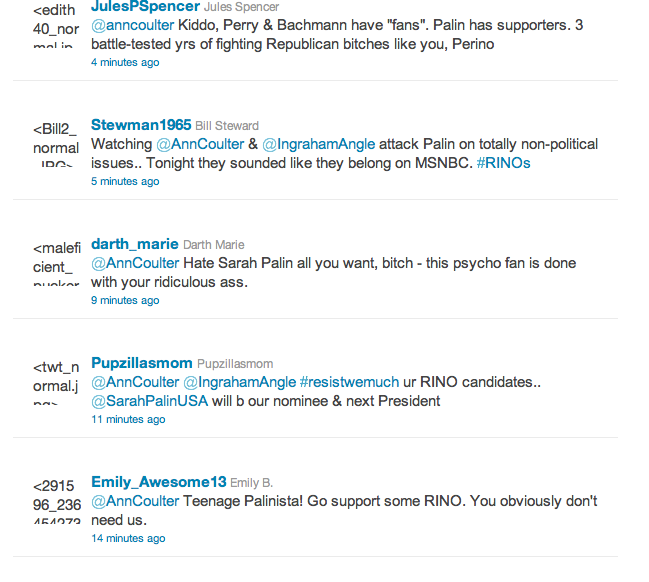 Yikes! Coulter has also defended Sarah Palin a number of times in both print and broadcast media. As a political commentator, it is her job to find both strengths and weaknesses in public figures. Her criticism of Palin is nothing new among pundits.
Even the Drudge banner that yelled "Tease" when Palin did not announce a presidential bid on September 3 in Iowa certainly hinted that many are wondering why the Alaska Republican continues to remain elusive. At this point, Republicans and conservatives want to have a better idea as to who will be in and who will be out.
Palin did say she would make a decision by September and the month is not over yet. However, if no decision is made, what exactly can Republicans expect from her?