A U.S. intelligence report for the first time links China's largest telecommunications company to Beijing's KGB-like intelligence service and says the company recently received nearly a quarter-billion dollars from the Chinese government.
The disclosures are a setback for Huawei Technologies Co. Ltd.'s efforts to break into the U.S. telecommunications market. The company has been blocked from doing so three times by the U.S. government because of concerns about its links to the Chinese government.
The report by the CIA-based Open Source Center states that Huawei's chairwoman, Sun Yafang, worked for the Ministry of State Security (MSS) Communications Department before joining the company.
The report on Huawei's board members states that Ms. Sun used her connections at MSS to help Huawei through "financial difficulties" when the company was founded in 1987.
Based in part on Chinese media reports and Huawei's website, the report reveals that the Beijing government paid Huawei $228.2 million for research and development during the past three years.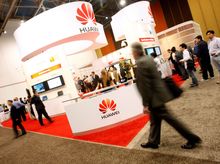 Huawei's links to the Chinese military have been disclosed previously. The Open Source Center (OSC) report provides the first details of its links to Chinese intelligence, which U.S. officials have said has been engaged in a massive effort to acquire secrets and economic intelligence from government and private-sector computer networks around the world.
According to U.S. officials, senior Chinese government officials in recent months have pressed the Obama administration to allow Huawei to buy into the U.S. telecommunications market.
Bill Plummer, a spokesman for Huawei's U.S. subsidiary, declined to comment on the report because the company has not seen it. But he said Ms. Sun's biography published in the company's most recent annual report "accurately describes her work experience."
"Huawei only sells commercial-grade solutions, and our sales to the Chinese government account for less than 1 percent of our total sales," Mr. Plummer said.
The co-presidents of Huawei USA stated in a letter to The Washington Times last year that, despite U.S. government allegations, Huawei is an "employee-owned" company, and China's government and military do not hold any shares or control the company.
However, the Pentagon's latest annual report on the Chinese military said China's industry, including Huawei, is closely integrated with the military. "Information technology companies in particular, including Huawei, Datang and Zhongxing, maintain close ties to the PLA [People's Liberation Army]," the report says.
The new OSC report, dated Oct. 5, says Chinese media reported that Huawei's senior leaders have "connections" to the PLA.
Ms. Sun "used her 'connections' at the Ministry of State Security to help Huawei through financial difficulties 'at critical moments' when the company was founded in 1987," the report says, quoting an item by the pro-Beijing Hong Kong broadcaster Phoenix Satellite Television.
The OSC report states that Huawei's 2010 annual report failed to mention that Ms. Sun, considered the most trusted aide to Huawei founder Ren Zhengfei, has ties to MSS, fueling suspicions of "potential close links between Huawei and the Chinese government."
Mr. Ren was identified in the report as having worked for China's military from 1974 to 1983 in the engineering corps. The report says that Mr. Ren is purportedly China's most influential business leader "who seldom mentions his military background in public."