Two firefighters seriously injured during a house fire in Prince George's County are awake and recovering, family members speaking publicly Sunday for the first time said about the young volunteers overpowered by a blast of flames.
Ethan Sorrell, 21, and Kevin O'Toole, 22, firefighters with the Bladensburg Volunteer Fire Department Company No. 9, are in critical but stable condition at the burn center at Washington Hospital Center in Northeast.
"He's doing well," Vann Sorrell said of his son. "He's in some pain, but he's doing well. He has to write with a notebook and pen."
Ethan Sorrell has burn injuries in his lungs and is using an intubation tube to help with breathing as a result of the fire Friday night. Yet he was feeling well enough to write that the female medic who tended to him en route to the hospital "was hot," said county Fire Chief Marc Bashoor.
Still, the anecdote was a rare, light-hearted moment during the tear-filled press conference with the families Sunday outside the hospital.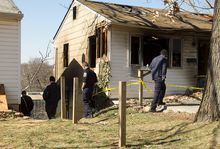 Mr. Sorrell and his wife, Kathy, who arrived from Buies Creek, N.C., choked back tears when asked how they felt about their son's heroic effort.
Jeff and Jane O'Toole drove four hours from Long Island, N.Y., to be with their son.
"It was the longest ride in the world," Mr. O'Toole said. "Kevin convinced the nurse to let him use her cellphone."
Said Mrs. O'Toole: "His voice was rasping, from the heat or smoke. He said, 'I love you.' "
Though he is able to speak, Kevin O'Toole suffered serious burns over 40 percent or more of his body. His hands are heavily bandaged, his parents said. And they anticipate their son will now need a phone with a talk-to-text option.
"He's hurting," Mr. O'Toole said. "He thought he was going to die."
The young men have made progress, including Mr. O'Toole's walking from his hospital bed to Mr. Sorrell's bedside, after each firefighter had inquired earlier about the other's health.
Mr. O'Toole and Mr. Sorrell were two of the seven firefighters injured in the blaze that started about 9:10 p.m. in the basement of a house in 6300 block of 57th Avenue in Riverdale.
Fire companies from Bladensburg and Riverdale were the first to arrive. And the first thing that became clear to the firefighters was the gusty wind and a car was parked in front of the house, which suggested a potential victim inside the house.
Some of the firefighters ran to the back of the one-story home, then entered through a basement door while Mr. O'Toole, Mr. Sorrell and other members of their company opened the front door in search of a victim.