Washington Redskins left tackle Trent Williams has much to prove in 2012 after being suspended for the final four games of last season for violating the NFL's substance abuse policy.
"I made a mistake, and I've just got to deal with it," he said Monday morning at The Leukemia Golf Classic, which was hosted by linebacker Brian Orakpo.
"It was tough having to watch the game from the couch," he said in his first public comments since the suspension. "It's definitely something I've never been a part of. I never thought I'd be doing this type of stuff you do when you make decisions like that."
Several outlets reported last December that Williams failed multiple drug tests during training camp. That ostensibly indicates some poor decision-making, at best, and perhaps a need for some lifestyle alterations.
The Redskins are counting on him to stay clean. He was the fourth-overall draft pick in 2010, and their offensive line lacks established depth. Another positive drug test would result in a year-long suspension.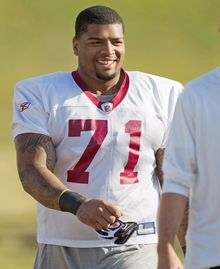 Williams was asked if he has made any significant changes to his life since the suspension.
"We're dealing with the program," he said. "They take certain amount of measures to make sure it doesn't occur again. But not really."
Asked again about any changes, he said: "Nah."
He did say, though, that he is pleased with the direction in which his life is headed.
"That's all behind me, a storm passed," he said. "Just ready to try to get in these playoffs, man."
Hankerson's hip healing
Receiver Leonard Hankerson hopes his surgically-repaired right hip is healthy enough for him to participate in the team's four-day minicamp that begins June 11.
"I'm feeling good, getting better each and every day," Hankerson said Monday. "I'm not quite there yet, but I'm looking forward to being there in a couple weeks."
Hankerson tore the labrum in his hip when the joint popped out and back in when he was tackled late in a loss to the Miami Dolphins on Nov. 13. He did not have surgery until late February because doctors wanted first to see if the hip would heal without a procedure.
Coach Mike Shanahan has spoken highly of Hankerson this offseason after he had 13 catches for 163 yards in four games (two starts) in 2011.