Kilian Kleinschmidt, a hardened veteran of international humanitarian crises, finds it too painful to listen to the stories of death and destruction from refugees fleeing Syria's relentless civil war, as they flood across the border to a crowded camp in northern Jordan.
"I am avoiding talking to people who come in as much as possible because the stories are horrendous," Mr. Kleinschmidt, who runs the Zaatari camp for the U.N. High Commissioner for Refugees, said in a phone interview from Jordan.
"The more the conflict continues, the more the stories become difficult to listen to. We now have people coming from the areas where chemical attacks have taken place and people from areas that have been locked up for quite some time."
Some Syrians also are fleeing areas afflicted with an outbreak of polio, as the highly contagious disease threatens to spread among children who have never received vaccinations against the crippling virus.
With a population of more than 100,000, Zaatari is one of the largest refugee camps in the world and the fourth-largest population center in Jordan, a fact that prompts Mr. Kleinschmidt to half-jokingly describe himself as "international mayor of Zaatari."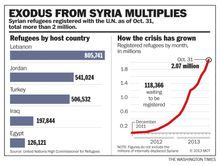 A U.N. report over the summer said the camp was "lawless in many ways" and found it to be plagued by an organized crime network, a claim denied by Jordanian officials.
"The overall challenge has been security, the relationship between the refugees, police and ourselves," Mr. Kleinschmidt said.
Besides posing security challenges, Syria's civil war is producing an unprecedented humanitarian crisis with hordes of refugees stretching the resources and good will of nearby countries.
The United Nations estimates that more than 2.2 million Syrians have fled their country since the start of the war against President Bashar Assad's regime in March 2011.
Most of these refugees are in Egypt, Iraq, Jordan, Lebanon and Turkey. They often live in overpopulated camps or in cities and towns where they compete with the local population for jobs, medical care and scarce resources.
Women and children make up a majority of the refugee population.
Many of the children do not attend school. They are exploited as child labor and often sexually assaulted. In some instances, they are preyed on by armed opposition groups looking for recruits to join the war in Syria.
"These refugee camps are ripe recruitment grounds for extremists. Rebels are already recruiting child soldiers from these camps," said Frank Jannuzi, deputy executive director at Amnesty International USA. "The clock is ticking on this crisis."
Host nations are worried about the security challenges posed by the refugees.
In Turkey, Syrian rebels frequently use camps and the areas around them "as off-duty resting places to visit their families, receive medical services and purchase supplies," according to an International Crisis Group report.