Photos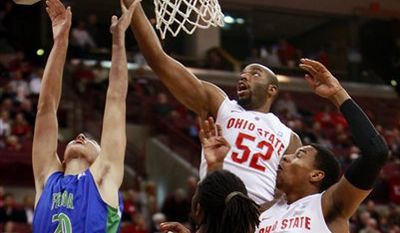 Quotations
"When we played in the summer, honestly, whoever got the ball brought it up _ either Will, Jon or David, played the point," starting forward Dallas Lauderdale said. "They got the rebound, they brought it up. No problem. Or if I got the rebound, I would pass to one of them. There really wasn't a set point guard I was looking for. All three of them, whoever I saw first I passed the ball to them."
Buckeyes missing Turner, not much else →
"That just shows how special our team is," said Lauderdale, a senior who specializes in blocked shots and rebounds. "We're finally a complete team. So if you try to focus on one part of us or one option, we'll go to the next option. And the next option is reliable."