Related Stories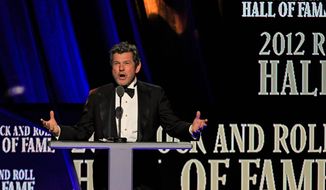 Quotations
No. Trump wasn't making a specific point about groceries; he used groceries as an example," Mr. Hinderaker says, noting that The Associated Press is "perhaps Trump's most bitter enemy other than CNN and MSNBC."
Inside the Beltway: U.S. remains the most religious among all Western nations →
"Remember when Republican restaurant owners wouldn't let Obama administration employees eat in their restaurants? No, I don't recall that either. I only have two observations about the Red Hen outrage: 1) We don't have Red Hen restaurants in our part of the country, or I would boycott them. 2) I hope Republicans are taking notes. One of these days, we will have a Democratic administration. And when that happens, every single outrage that the Democrats have perpetrated beginning in January 2017 should be visited upon them," Mr. Hinderaker says.
Inside the Beltway: McCaul: 'We stop 10 terrorists every day from getting into this country' →