Photos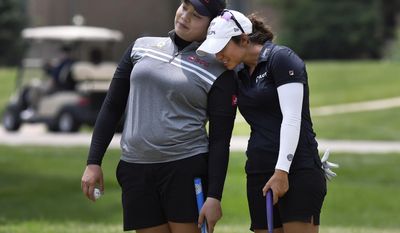 Quotations
"I think it's a nice, fun golf course," Alex said. "You've got a lot of variation, some short holes, some long holes. I feel like you hit a lot of different clubs into greens, whether it's a wedge all the way to - I had a hybrid yesterday into one of the holes."
Moriya Jutanugarn shoots 66, leads by 1 shot in Los Angeles →
"I made a lot of the putts that I shouldn't, I wouldn't have expected to make," she said. "I made two great saves on 17 and 18. Kind of got away with some not-so-solid golf shots in the beginning, and I capitalized on some great putts."