My quest to get a legal handgun in Washington, D.C. feels daunting. I went to the D.C. Firearms Registration office two weeks ago to start the process of getting a legal gun by picking up a 22-page packet of forms and instructions.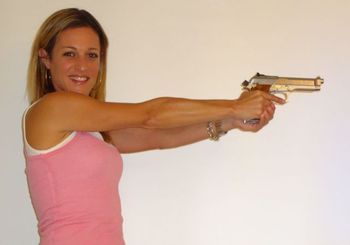 Since then, I've been overwhelmed by all that is required before I can take legal possession of a purchased gun.
I needed to get organized, so I made a checklist of the required steps, bringing order to the complicated mess of instructions given by the city.
I'm going to work my way down this list:
1) Fill out the eligibility form and get it notarized
2) Find a D.C.-certified instructor to sign up for a firearms safety course
3) Take four hours of classroom instruction and one hour of range instruction on safety and have the instructor fill out the compliance form
4) Provide proof that my vision is okay (my driver's license suffices, one down!)
5) Provide proof of residency (my license works, two down!)
6) Get two passport photos
7) Study D.C.'s laws and regulations for firearms (guide provided in the packet)
8) Pass a 20-question multiple choice test on No. 7
9) Be fingerprinted
10) Pay fees totaling $60
11) Buy the gun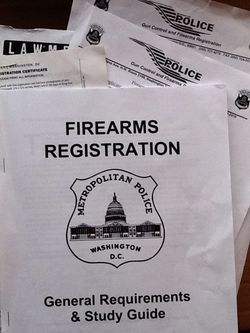 12) Arrange with D.C.'s only legal gun broker, Charles Sykes, to transfer the gun (cost $125) to him
13) Have Mr. Sykes fill out the his section in the application for firearms registration certificate
14) Take all the applications requirements from above to the registration office
15) After the application is in, wait five days for the application to be approved
16) After the five days are up, wait another 5 days for Mr. Sykes to be legally allowed to release the firearm
17) Pick up the gun from Mr. Sykes and take it to the police department for a ballistics test
If I pass all these tests, then I get the gun, but have to go straight home since it's illegal to carry in the city.
So far, I've completed No. 4, 5, half of No. 1 (not yet notarized) and started on No. 2 by calling some instructors to sign up for a class.
At this rate, I should be an owner of a legal handgun about the same time I'm eligible for Social Security.
Next up in the series: Who's Eligible for a Gun in D.C.
"Emily Gets Her Gun" is a new series following senior editor Emily Miller as she legally tries to get her hands on a gun in the nation's capital. You can also follow her quest on Twitter.