I walked into my editor's office on Monday, a few minutes before our weekly staff meeting at 11 a.m. He was working on his computer. "Whatcha doin'?" I asked.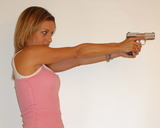 "Buying a gun." He's a man of few words, so I couldn't tell if he was joking or not.
"Seriously?"
"Yes. I'm doing it before the meeting. Look at this," he said, pointing at his screen. I peered over his shoulder at the website called Gallery of Guns. "You just put the gun you want in this box and it pulls up all the options." He selected a Kahr PM9.
"Why are you getting another Kahr?" I asked, knowing he already has the Kahr K40 (which I'm holding in the photo above).
"I've had that one since 1997 and want a smaller one for carry. This one weighs half as much. And I'm keeping the same brand for consistency," he explained. "Now I just type in my name, address and credit card number to order it."
"Don't you have to put in your concealed carry permit number?" I asked.
"Nope. The most annoying thing is remembering my password for the website," he said. He entered his zip code and got a list of gun stores. "Just pick the one nearest to me and pick it up. That's it."
"That's it? No tests? No registration? No waiting?" I asked.
"Nope," he said as he hit the submit button and headed off to our staff meeting.
The next day at 3 p.m., I got an email from my editor with the subject line, "America Rocks." I clicked it open and his messages said, "Just got a call. My gun is ready for pick up."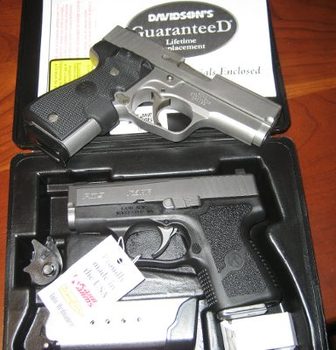 On Wednesday morning, he went to the store. He showed his driver's license and a second form of ID (his concealed carry permit) and filled out two forms.
The federal background check form asked for the basics- name, address, date of birth, Social Security number, plus a half-page of yes and no questions to weed out non-citizens, felons and mentally ill).
The one-page Virginia state asked the same questions more briefly. The store did a computerized instant background check. He paid with a credit card and was out the door with his new Kahr PM9 in a total of ten minutes.
I've been working on buying a gun in Washington, D.C. since October. Yet, one short bridge span away, you can get a legal firearm overnight. The contrast is striking.
Next up in the series: Why I still haven't bought a gun in D.C.
"Emily gets her gun" is a series following senior editor Emily Miller as she legally tries to get her hands on a gun in the nation's capital. You can also follow her on Twitter and Facebook.