I testified on Monday before the District of Columbia Council's Judiciary Committee about my experiences and reporting on the gun registration process in the city.
Below you can watch the video of my oral testimony, followed by the extensive grilling I got from the committee's chairman, Phil Mendelson, Democrat at-Large. If you want to watch the whole six-hour hearing, click here. The text of my statement is below the video.
Mr. Chairman and committee members, thank you for giving me this opportunity to share my experiences with you.
My name is Emily Miller. I'm a District resident, and I want to get a gun to protect myself. As I've been going through the gun registration, I've documented every detail in my newspaper, The Washington Times. But today, I'm here to testify as a private citizen of D.C. about my personal views and experiences trying to get a legal gun in this city.
I always knew getting a legal gun would be a challenge, but I had no idea it would be this frustrating, time-consuming, expensive and complicated.
As of now, I'm in the 10-day waiting period to see if my registration application is approved for a handgun. Or as I've tracked it, I've completed 14 of the 17 steps the city requires to register a gun. For me, the safety class has been the biggest barrier to gun ownership - in time, expense and my personal safety.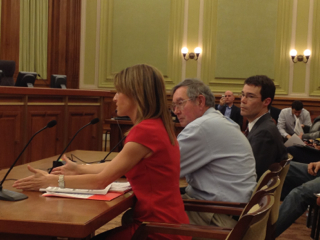 It took me a long while to find an instructor for the course - it seemed the District was making it as difficult as possible. As you know, the police give out the list of certified instructors with only their names and phone numbers.
I called every single one of the 47 people on that list. And only found four instructors willing and able to teach the class. The prices were mostly in the range of $200 to $250.
It doesn't say it in the registration packet, but from making all these calls, I quickly learned that the instructors are not allowed to teach the course within the District city limits.
I just don't understand how it can be constitutional that I have to go outside Washington in order to exercise my Second Amendment right to keep and bear arms in D.C.
All of the instructors are in Maryland and Virginia and teach the class out of the their homes - or more specifically, as one man said, in his basement. They all live from 30 minutes to an hour drive each way. None were near a Metro stop. I don't know what a D.C. resident who doesn't have a car would do to take the mandatory class.
Above all that, the biggest problem is being a woman and trying to find a way to feel safe while taking a class at a strange man's house. Since the list only gives the instructors' phone numbers - but no important details such as address, website or business affiliation- they are almost impossible to investigate.
I don't believe it it right that the DC police require me to go to an armed stranger's house - in another state - for any reason. I already don't feel safe. That's why I wanted a gun in the first place and still do.
Another huge hurdle in the gun registration process is buying the gun. Nowhere in the 22-page packet does it say that Charles Sykes is the only gun dealer in DC. And since it is mandatory to use his services - because we aren't allowed to pick up guns ourselves from stores in neighboring states - I think you should tell people in the instructions that they will have to pay his $125 transfer fee.
Which brings me to the astronomical cost of registering a gun in DC. On top of Sykes's fees, I paid $225 for the class. $35 for range fees and ammunition. The passport photos cost $20. Then I paid the city $35 for fingerprints, $13 for gun registration and $12 for a ballistics test.
So I have spent a total of $465 in fees. And that doesn't include the cost of the gun!
I had no idea registering a gun would be this expensive. I think the registration packet should state these costs up front. This is a lot of money for me, and I have a good job. So I don't know how a lower-income DC resident could afford almost $500 in fees to have a legal gun.
Mr. Chairman, I was pleased to see your bill would have the police take photos instead of our having to buy passport photos. And you would eliminate the ballistics test. Those things would save us $32 in fees, but it helps more in saving time.
And that's the other and final huge hurdle I want to mention today. It takes way too much time to get a gun legally in D.C. From taking the written test, the five-hour class, waiting in line at the DMV to pay the fees, getting fingerprinted, meeting with Sykes to transfer the gun and on and on.
No one can register a gun in DC without taking at least two or three days off work. And as you know, the registry office is closed on weekends.
Members of the committee, in my opinion, this complicated registration process doesn't stop people from getting guns, it just drives them to get guns illegally because it's faster and cheaper and a lot less frustrating.
I think you should encourage people like me — who are trying to abide by the law — by making this gun registration process less burdensome on the citizen.
I've only touched on some of my main issues with the registration process. My written testimony will give you a complete perspective of what we go through.
Thank you for your time.
"Emily gets her gun" is a series following senior editor Emily Miller as she tries to legally get her hands on a gun in the nation's capital. You can also follow her on Twitter and Facebook.