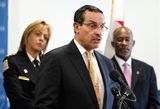 Washington residents are up in arms, though not armed. With violent crime up 40 percent in the first two months of the year - including double the number of robberies at gunpoint - residents are looking for ways to protect themselves. Elected officials and police have no solution.
Take Benjamin Portman, who lives on Capitol Hill, part of the 1st District, where violent crime has increased the most. A total of 110 incidents have been reported in 2012, a 69 percent jump, according to statistics obtained by The Washington Times. Two weeks ago, Mr. Portman's male roommate and his girlfriend were robbed by three armed men in ski masks as they walked home on a well-lit street.
That spurred Mr. Portman to attend a community meeting on the increased violence, which was held last week by D.C. Council member Mary M. Cheh, Ward 3 Democrat. Mr. Portman asked officials why the city makes it so difficult for law-abiding residents to register guns and refuses to allow them to carry weapons outside of the home.
As you can see in the video below, Paul Quander, the District's deputy mayor for public safety and justice, responded that crime victims should give the criminals what they want. Mr. Portman protested, saying, "But how do you know you're going live and survive? You're completely at their mercy."
CLICK TO READ THE REST OF THE STORY AND WATCH THE VIDEO EXCHANGE WITH DEPUTY MAYOR QUANDER
Next in the series:D.C. Gun Owners Win a Round
"Emily Gets Her Gun" is a series following senior editor Emily Miller as she tries to legally get her hands on a gun in the nation's capital. You can also follow her on Twitter and Facebook.