Olympic skeet shooter Kim Rhode has a bigger reason that most to spend time picking out the perfect gun. Mrs. Rhode made history in London this summer by becoming the first U.S. athlete to medal in an individual sport in five consecutive Olympics. She is very enthusiastic about her firearm collection.
(This is a new feature exploring the firearms owned by high-profile individuals. Click here to read about Rep. Paul Ryan and click here for Donald Trump.)
I met Mrs. Rhode at a clay shoot in Tampa in August. She was in town to speak at the Republican convention in support of Mitt Romney. Acting less like a journalist and more like an avid fan, I asked to take a photo with her. She insisted that I put on her five medals, and she showed the same generosity of spirit with everyone who approached her.
A month later, I sat next to her at a dinner in Washington in September for the Congressional Sportsmen's Foundation. I asked her about her gun collection for this series, and she offered to go home and check all the details to be sure to give me the correct information.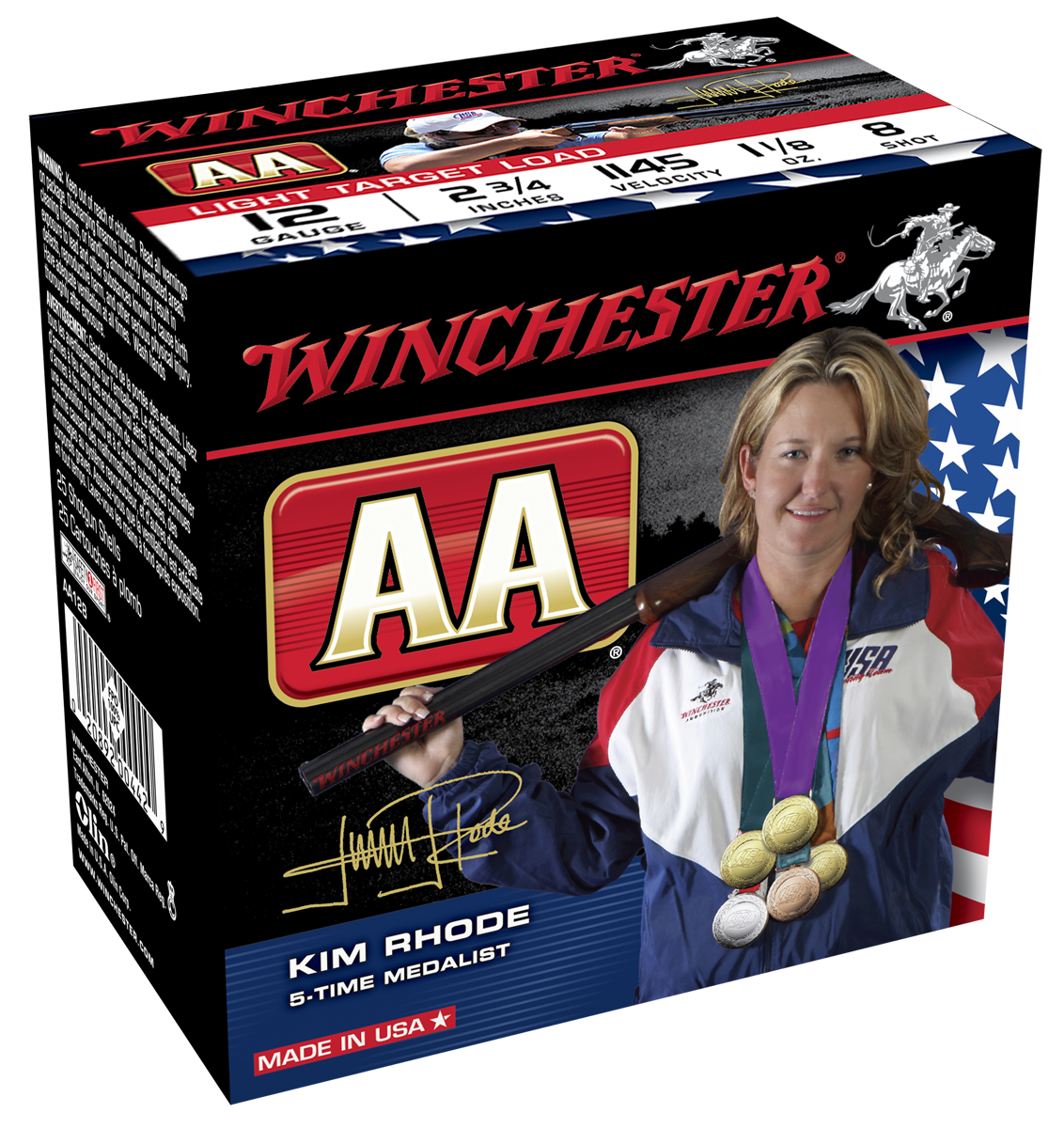 Mrs. Rhode said that the four guns she shoots regularly are her 12 gauge MX2000S Perazzi shotgun, a .22-250 rifle, a pre-1964 Winchester Model 70 .30-06 rifle and a side-by-side Searcy .375 Rifle.
"My favorite gun is my Perazzi 2000S shotgun that I'm currently shooting in skeet. It fits me well and is very reliable," she said. "It's hard not to love the gun that helped to win a gold."
The 33-year-old started shooting as a kid with a BB gun and a pellet gun. Her first gun was a .22 competition rifle that belonged to her father.
By ten years old, she was shooting in National Rifle Association competitions — standing, kneeling and prone. "Then I discovered the moving targets of trap and skeet, and I was hooked," she said.
Since her success in London, Mrs. Rhode has been given an honor that few others have gotten. The Winchester Company put her photo on a box of ammunition — the fourth person to be given this prestigious award since the manufacturer was founded in 1866.
She is in impressive company; the others were actor John Wayne, President Teddy Roosevelt and company founder Oliver F. Winchester.
The limited edition boxes featuring the Olympian will be 25-round boxes of 2 3/4-inch, #8-shot target shells. Winchester is donating 50 percent of the proceeds from the Rhode boxes to USA Shooting.
Mrs. Rhode is a down-to-earth, high-spirited, patriotic and incredibly talented athlete and role model. Bringing home the gold medal for the third time did not send Mrs. Rhode into retirement; she will be competing at the 2016 games in Rio de Janeiro.
Emily Miller is a senior editor for the Opinion pages at The Washington Times. Her "Emily Gets Her Gun" series on the District's gun laws won the 2012 Clark Mollenhoff Award for Investigative Reporting from the Institute on Political Journalism.You can also follow her on Twitter and Facebook.