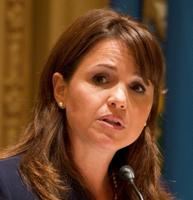 O'Donnell
Former Delaware Gov. Pete Du Pont has endorsed fellow Republican Christine O'Donnell's Senate bid.

"It is my belief that Christine O'Donnell will represent the First State honorably in the United States Senate," Du Pont said.

The former governor noted that since the race winner will be seated immediately following the Nov. 2nd congressional elections — a condition of outgoing Democratic Sen. Ted Kaufman's appointment following Joe Biden's election as vice president — his or her votes are "all that more important to the citizens of our state."

O'Donnell called Du Pont — a moderate who served three terms as governor until 1985 — "one of the greatest governors in the history of Delaware" and said she was honored to have his endorsement.

O'Donnell trails Democratic nominee Chris Coons by double digits in most polls.