Photos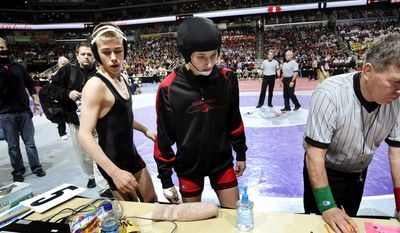 Quotations
Joel Northrup, a home-schooled sophomore who was 35-4 wrestling for Linn-Mar High this season, said in a statement that he doesn't feel it would be right for him to wrestle Cedar Falls freshman Cassy Herkelman.
Wrestler refuses to face girl, defaults →
"I have a tremendous amount of respect for Cassy and Megan and their accomplishments. However, wrestling is a combat sport and it can get violent at times," wrote Joel. "As a matter of conscience and my faith I do not believe that it is appropriate for a boy to engage a girl in this manner. It is unfortunate that I have been placed in a situation not seen in most other high school sports in Iowa."