Photos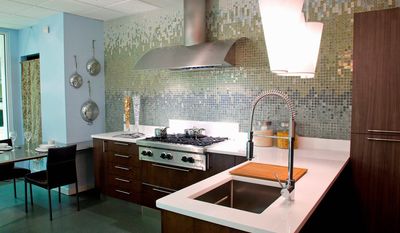 Quotations
"I wanted to blend the indoors and outdoors since this is next to the pool, so I took down shutters and made sure the windows are noticeable," Ms. Subaran says.
Design House offers dramatic party spaces →
"The kitchen was originally dark and chopped up, with red brick and wood walls and outdated cabinets, but I also wanted to blend modern style with a retro look," Ms. Subaran says. "I added a Vermont soapstone counter and a farmhouse sink, and I was able to fit a stainless steel refrigerator into a deep niche. The most important element when you are redoing a kitchen is the design and layout of the room, to make it as functional as possible."