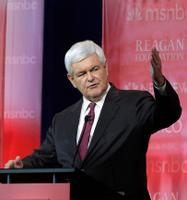 GOP presidential candidate Newt Gingrich believes that the Washington, D.C. city government is ignoring the 2008 Supreme Court decision that recognized the Second Amendment of the U.S. Constitution applies in Washington. The District of Columbia v. Heller case overturned the 30-year gun ban in the nation's capital.
"They are deliberately trying to undermine the court ruling," Mr. Gingrich told me in a recent interview about the "Emily Gets Her Gun" series. Mr. Gingrich opposes the complex, difficult process required to get a legal gun in the nation's capital. "I deeply dislike what D.C. is doing," he said.
The former House speaker takes issue with the local government officials who disregard the evidence that, "the cities with with most gun control have the highest crime." Mr. Gingrich could debate this with D.C. City Council Chairman Kwame Brown, who does not know these facts.
"I don't believe that the easy way is just to have everyone have a gun and it may possibly reduce crime," Mr. Brown told me in an interview. "We need to figure out the real reasons that we have crime in the District of Columbia and tackle them. When we have 45-50 percent unemployment in the District of Columbia, people are going to start to do things, when they don't have, they are going to start to take."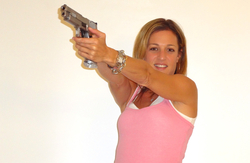 Asked point blank if he knew that higher legal gun ownership directly correlated with less crime, Mr. Brown said
that, "I don't see guns as the answer to dealing with high crime in the District of Columbia."
An author of history books, Mr. Gingrich pointed out that the Constitution doesn't grant gun ownership as a privilege, it affirms this as a pre-existing right that cannot be taken away by the government.
"The Second Amendment does not give you the right to bear arms - you already have that right - it says your right 'shall not be infringed,'" he told me. "It's integral to political liberty. It's a core political right of the American people."
"Emily Gets Her Gun" is a new series following senior editor Emily Miller as she legally tries to get her hands on a gun in the nation's capital. You can also follow her quest on Twitter.