Washington, D.C. police appear prepared to arrest gun owners even if they aren't breaking the law. Transporting a gun through the District, whether as a resident or visitor, is not nearly as big of a legal risk as the police department experts say.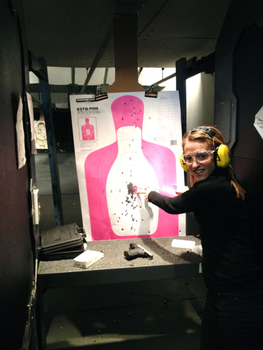 However, the city is giving out false information in written and verbal form on these laws, which significantly raises the possibility of gun owners being falsely arrested and having their legal firearm confiscated.
RESOURCES FOR ABIDING BY GUN LAWS
Those looking for answers on how to transport their gun have one place to start. The Metropolitan Police Department's Firearms Registration Office is the sole source of information for non-residents traveling through the District and for the handful of law-abiding residents who have taken days off work and spent hundreds of dollars in fees to register a firearm.
The registry office gives gun owners a 22-page packet (also online) which starts with a letter from Police Chief Cathy Lanier: "This pamphlet provides you with the information you need to comply with the District's laws regarding proper registration and safekeeping of your weapon. By being familiar with the law and process, you will be able to quickly and easily register your weapon and ensure that you are in compliance."
Registration is anything but quick and easy, yet compliance is essential to avoid a felony charge. Chief Lanier adds that the guide "aims to give you everything you need," but, just in case, the registration office is available by phone to answer questions or special needs.
As detailed in this registration packet, the transportation laws are extremely difficult to adhere to in a reasonable way. Worse, as I later found out, the guide is totally incorrect about some important laws.
PUBLIC GIVEN FALSE INFORMATION ON GUN LAWS
The guide says that a gun can only be outside the home when "traveling directly to or from a lawful firearm-related activity (registration, hunting, shooting at a practice range, etc.)." The word "directly" is what creates questions from gun owners and false interpretation by the police. Equally legally questionable is the requirement that transport is only legal when going to or from "firearm-related activity."
As I described in a previous story, the police said that I would be breaking the law if I stopped for gas or thebathroom en route to or from a shooting range. Officer Harper, who was the registry office expert in charge on the day I called, said I could be arrested and my gun taken away if I stayed in Virginia after the gun range closed before returning home to the District. He insisted I'd be violating D.C. laws and could be detained if I stopped inVirginia for lunch, since I wouldn't be driving "directly" to or from the range.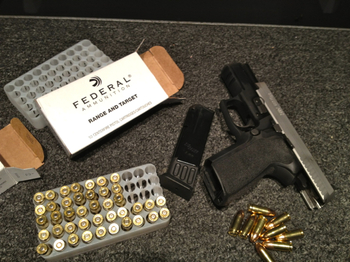 He also said that if I stopped at the store to buy ammunition in the commonwealth before going to shoot, he said I'd be in violation of D.C. laws when I returned. Because of these warnings, I've not been training as much as I'd like because it is difficult and unpleasant to travel at least 20 miles in each direction to a range without stopping for food or other necessities.
Several D.C. gun owners have contacted me to say they have been given the same instructions over the past four years by the registration office. People who have to travel through the District often have gone the long route to avoid coming up afoul of the over-eager cops.
I've repeatedly called Lieutenant Jon Shelton, who is in charge of the registry office, to clarify the information coming from his staff. He does not return my calls.
COUNCILMAN MENDELSON: "THEY'RE JUST MAKING STUFF UP"
I decided to go directly to the source. D.C. Councilman Phil Mendelson wrote the gun laws in 2008 after the Supreme Court overturned the city's 30-year handgun ban. Mr. Mendelson, chairman of the council's Judiciary Committee, was genuinely surprised by the way the registry office was interpreting the law and advising residents.
Mr. Mendelson said that the firearm transport laws were clear. "We spent a lot of time on that in 2008. We modeled it after the federal law," he said. Federal law allows you to transport a legal gun across state lines (the District is treated as a state under this statute). The firearm has to be unloaded, and both it and any ammunition must not be accessible from the passenger compartment. For trucks or SUVs that don't have trunks, the gun has to be in a locked container.
"This was not something the Supreme Court had looked at," he said, referring to the Heller decision. "It was in the registration law." Mr. Mendelson referred me to a specific provision of the D.C. code which should be the basis for how the police instruct the public and decide when to make an arrest. "I remember we even debated what to do if you are transporting a gun on a motorcycles - because you don't have trunk - or if you're bicycling," he said. "We covered all this."
I described some of the legal interpretation from the registry office. The at-large Democrat was practical. "First of all, if you're transporting a gun legally, you've got it in the trunk of the car, so no one is going to know," he said.
Officer Harper told me that if I was pulled over, I was required to tell the police that I had a gun in the car. This matched up with the registration packet, which says that, if you are stopped by any police agency in D.C. with a firearm, you must immediately produce the registration certificate and "substantiate the lawful reason for transporting the weapon."
Councilman Mendelson saw no reason for this to ever happen. "If the gun is registered to you, they're not going to prosecute you." He clarified, "Unless you have the gun sitting on your dashboard or on the gun rack." The registration packet states that the gun has to be in the trunk. If the car doesn't have one, then in a separate compartment from the driver and in a locked container.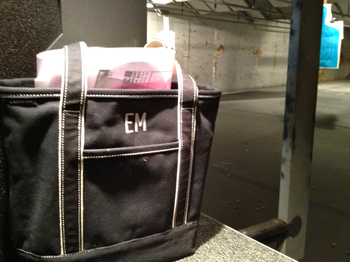 The registry office told me that if I needed gas, I'll have to try to "convince" the cop of why I needed to stop on the way to shooting. Officer Harper warned me, "You have to just explain what happened. Only thing is he'll ask, 'Why didn't you get gas before going to the range?'"
I told Mr. Mendelson about this. "You can stop for gas," he said, sounding surprised. "They're just making stuff up," he added. Yes, I agreed.
Officer Harper also said if I came back to D.C. at 11:30pm with a gun, it would be after a shooting range had closed, and therefore the police would have justification for arrest and taking away my gun. He told me that the cop would "have probable cause to believe you weren't doing what you say you're doing. And at the least, he can take the weapon for safe keeping."
"The law doesn't give them a right to arrest," Mr. Mendelson said in response to the claim. It also doesn't give the police the right to take my gun.
I explained the police told me that gun owners are not allowed to stop to go to the bathroom while transporting a gun. Mr. Mendelson looked to be in disbelief.
"Who said this to you?" he asked me. I told him Officer Harper in the registry office. "This was at the gun unit?" he asked me. I nodded. "There is no basis for it," he confirmed.
HOW TO AVOID FALSE ARREST
I dug up the D.C. law Mr. Mendelson referred me to, and indeed it is almost exactly the same as the federal statute.
Most importantly, the District law says that a legally registered firearm can be transported "for any lawful purpose" from anyplace where you can legally "posses and carry the firearm" to any other place where you can do the same. This means I can take my gun from home (the only place in the Distinct where I can legally keep and bear arms) to neighboring states for any reason, other than committing a crime.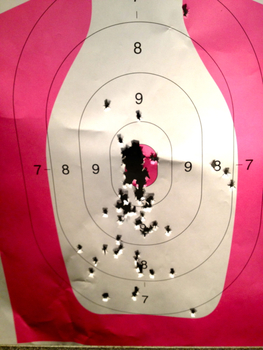 The law was so different than the information provided by the gun registry office that I checked it with firearms attorney Richard Gardiner for his interpretation. Mr. Gardiner represents Dick Heller, who brought the landmark Supreme Court case that overturned Washington's 30-year handgun ban.
He told me that it is incorrect for D.C. to say that you can only transport for a firearm-related activity. The law says that the firearm can be taken from one place where it is legal to another. The purpose of the trip does not matter. District residents like me could take a gun to Virginia to do anything as long as it is locked in the trunk.
Mr. Gardiner pointed out that the errors in the police instructions seem to be based on laws that only apply to non-residents. D.C. law says that a non-resident driving with a firearm through D.C. on the way to recreational shooting in a nearby state must be ready to show law enforcement proof of going to or from the activity and that the gun is lawful in the home state. However, a non-resident who is just traveling with his gun between states for a trip would be covered by the general transportation law which allows for transport as long as the firearm is properly kept in the car.
If you are a firearm owner considering driving through the nation's capital with your gun and this all sounds confusing, that's because it is. It took me three days of pestering Mr. Gardiner to understand enough to write the previous paragraph. I can only assume this exception is intended to encourage non-residents with legal guns to drive the long way around the city.
Moreover, the registration rules that I must go "directly" to and from the firearm-related activity is not accurate. The law states that I go from one legal location to another. The activity is not relevant. Mr. Gardiner confirmed that I could drive to a shooting range in Virginia, then go to dinner, leaving leave my gun locked in my car and not be liable for any firearm crimes when returning home to D.C. The police are giving out blatantly incorrect information.
Mr. Gardiner also said that as long as the gun is properly stored in the car, people with a firearm in their vehicle can stop in D.C. for gas or food without violating the law. However, it is important for non-residents to remember that the District does not have any open or concealed carry rights, so never take the gun out of the car during transport.
The registration office also writes that if you are pulled over by the Washington police for another reason, D.C. give a "lawful reason for transporting the weapon." Again, not true. You do not need to provide a reason for taking your gun, so long as it's being transported legally.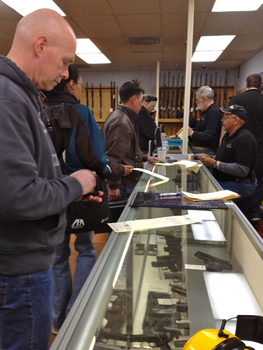 Officer Harper at the registry office also told me that if I was pulled over, I would have to volunteer that I had a gun in my car and then attempt to "convince" the officer I was going to a firearm-related activity. Again, that's not true. Mr. Gardiner said if I'm pulled over for another offense, I do not have to voluntarily offer that I'm legally transporting a firearm. And should I be asked by the police, I have the constitutional right not to answer. This applies to both residents and non-residents.
EXERCISING A RIGHT
I was relieved to clear up all the misinformation coming from the registry office for myself and for other gun owners in D.C. or those passing through the nation's capital.
With my new-found freedom, I wanted to enjoy a trip to the shooting range on Saturday. I put my gun in a locked box in the back of my car and drove to a neighborhood Starbucks for a coffee. Then I drove to Sharpshooters in Lorton, Virginia and arrived five minutes before it opened at 10 a.m. There was a line of about 25 people at the front door of the shooting range. Business is booming.
This was my first time going to the range alone, and everyone was so helpful and friendly. I had so much fun shooting my new Sig for the second time, I even tried one-handed head shots. Afterwards, I put my gun in a locked box in the back of my SUV, stopped to get lunch and run a couple errands. I think drove back home to D.C., no longer afraid of being falsely arrested.
Next in the series:Transporting Guns in Maryland
"Emily Gets Her Gun" is a series following senior editor Emily Miller as she tries to legally get her hands on a gun in the nation's capital. You can also follow her on Twitter and Facebook.