Photos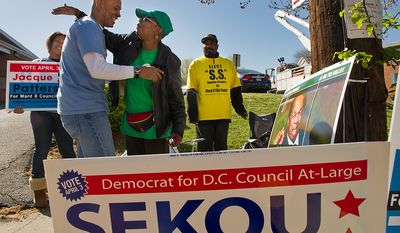 Quotations
At the Oct. 17 meeting of the D.C. Public Charter School Board, Jacque Patterson, Rocketship's regional director and a 21-year resident of Ward 8, said the organization plans to open a second campus in Ward 7 next fall.
Andre Agassi's Rocketship Rise Academy thriving as charter schools take hold in D.C. →
"We may all be Democrats, but we're not all on the same page," said Mr. Patterson, who works for the Federal City Council. "How we go about education reform, the economy and fiscal problems are important to people who live east [of Rock Creek Park] and west of the park, but we have too few Democratic candidates who can bridge that gap."