Photos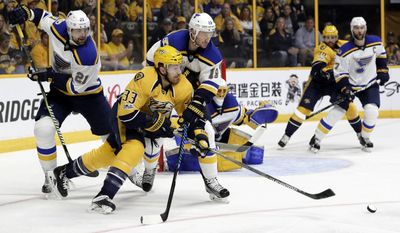 Quotations
"We spent a lot of time in our zone, but we were able to keep them to the outside and Jake was great," Bouwmeester said. "He let us take advantage of the opportunities we did have."
Blues score 4 times in 5-shot span, beat Red Wings 6-1 →
"Through all that I think we maintained our confidence in him knowing what he's done in the past and the way he's capable of playing," defenseman Jay Bouwmeester said. "It just kind of all came together. I'm sure after you get a couple of wins and a couple big saves, that sort of thing, everything becomes a little easier."
Yeo, it's me: Ex-Wild coach leads Blues into playoff matchup →