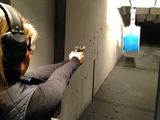 In my quest to obtain a legal gun in Washington, D.C., I've gone to the registry office, taken a 5-hour course, filled out paperwork and met with the city's only dealer. I've now fulfilled any requirements that can be done before giving the city the serial number of my new gun, so it is time to decide what to buy.
(You might think I'm close to the end, but that's not what happens on this side of the Potomac. After I buy, there will still be 10 more steps before I can take possession of my gun.)
I went to local gun store, Sharpshooters Small Arms Range in Virginia on Friday to rent some guns to try out in their range. The store was located at the very end of an industrial park, across from a construction site.
I was surprised that the parking lot was full on a Friday morning. Many of the cars had military and police stickers. I was glad my editor drove because I would have been intimidated alone.
Inside, I handed over my driver's license for a one-day rental and to use the range. The man looked at my ID and said my name was familiar. "Oh yeah, you're the one writing about getting a gun in D.C.", said Mike Collins. "I've been following your stories. You need to move to Virginia!"
Another man behind the counter said, "Oh you're Emily Miller. I heard you were at the Maryland range already." Word spread quickly in this small gun community.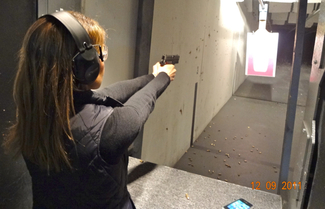 For $10, I could try out as many guns as I wanted from three shelves packed with pistols. Since Washington doesn't allowed concealed carry (or any carry), I knew I wanted a full-size gun.
"So far, I've had the best experience with the Glock 17 9mm," I told Mr. Collins, before looking away a little embarrassed to continue. I was the only woman shooting or buying that day. "Well, frankly, it just doesn't look very cool. And I want to like the gun I buy."
To my pleasant surprise, he agreed with me. "The Glock looks like a brick," he said, laughing. "And life's too short to carry an ugly gun." Since all the guns do the same thing, I might as well like the looks of if since it's an expensive item.
I put on my ears and eyes and headed into the range. Every lane was full of men shooting loud guns in rapid speed at very small targets. I had chosen a huge pink silhouette as my target.
I first tried out the gun I've had my eye on since I started this odyssey, the Sig Sauer 229 in 9mm (see photo above). I'd shot my editor's 226 before, but it was hard to control. The store had the new E2 version which has a slimmer grip. I shot fairly well and definitely had more control than the larger one. (Click here to watch a short video of me shooting it.) I liked the way it looked too. But mostly, I like the Sig because it's one of the guns that the SEALS used to kill Osama bin Laden.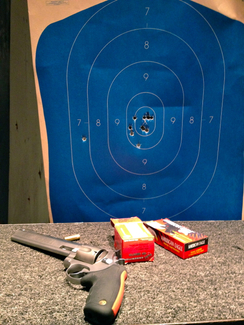 Next I tried the Smith and Wesson M&P9c in 9mm. I liked this gun except the grip was short. I feel more in control with one that the grip is longer than my hands. We went back and found an extended grip model and that shot much better.
I also tried the Kahr K9 which was the coolest looking (see photo at top), but had a very heavy recoil. I got through about seven bullets and knew that this wasn't the one for me. Then I tried the Springfield XD(M) 3.8 in 9mm and found I had great control and accuracy with it. I liked the way it felt in my hand, and it looked like a cool gun. The XD(M) would definitely be a top contender too.
Then I tried a Beretta Px4 Storm (see photo at bottom), which was a heavier gun. The weight helped me with accuracy, but was more difficult to keep control during kickback. I liked the way it looked a lot, plus the name sounds like a spy movie gun.
As I was winding down, having tried every 9mm available for rent, my editor came to the lane with the biggest revolver that I've ever seen in my life. "You've GOT to be kidding me," I said, looking at a Taurus Raging Bull pistol that was longer than my thigh.
"Nope, you're going to shoot this next," he said. "I'll go first to warm it up." He put five .454 Casull bullets into the the cylinder. He held it up and went BAM BAM BAM. I couldn't help but jump every time he shot.
"You're next, but you only get one bullet," he said. "I want to be sure you don't throw it."
I looked behind the glass into the range and saw Mr. Collins and two other employees smiling and pointing at me holding this massive pistol. I thought, "I'll be darned if I'm going to let these men see me intimidated."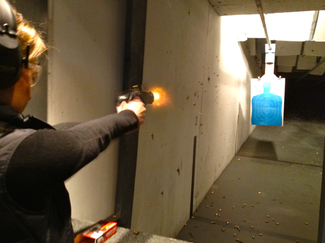 So I picked up the loaded revolver and could barely hold it up from the weight in the long barrel.
I focused on the front sight, kept still and pulled the trigger. BOOM. I looked up and saw a hole right in the bulls-eye. I looked back to see four very surprised men.
"I want five of those bullets now, thank you," I said. I shot them all and tried not to flinch.
At the end, I saw that this big gun gave me my best grouping of the day, all within the X and the 9 ring. (See photo of the dark blue target above. The 7 wasn't mine!) I wouldn't ever buy this gun for protection, but it was confidence-building to know I can fire something that powerful and keep control.
So I've narrowed down to a few choices. Starting on Monday, we're going to have a poll in this space so readers can help me make my final selection.
Up next in the series: POLL: Which Gun Should Emily Buy?
"Emily gets her gun" is a new series following senior editor Emily Miller as she legally tries to get her hands on a gun in the nation's capital. You can also follow her on Twitter @EmilyMiller and Facebook.