Related Stories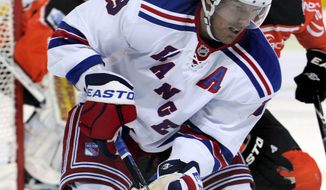 By Ira Podell

- Associated Press

Shares
Quotations
"They seem to be at every minor hockey tournament, and they're pretty knowledgeable about the game so they can pick through and find the players that they feel fit for the system," said Danny Syvret, the captain of the Memorial Cup team, who is now a defenseman in the St. Louis Blues' organization. "Nine times out of 10, the players outperform everyone else."
Playing on London Knights prepares alumni for success in NHL →
"Parents and the children trying out for the team can watch us as products. The majority of us are products of the London Knights that have come through and we've gone on to play professionally," said Syvret, who coordinates the alumni skates. "I think that's the cool thing. If I was a young kid coming into an OHL organization and there's reigning MVP Corey Perry and Drew Doughty ... it's sort of a cool first experience."
Playing on London Knights prepares alumni for success in NHL →