Photos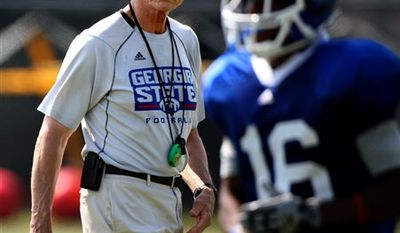 Quotations
"It's been a real adventure and I've loved every minute of the challenge," the 67-year-old Curry said, pausing briefly and adding with a wry grin, "Well, almost every minute."
Ga. State starts new program in tough economy →
"We are very enthused about our personnel," said Curry, who coached at Georgia Tech, Alabama and Kentucky but hasn't been on the sideline since 1996. "Some of them are guys we recruited from a lot of different places. And some of them just flat-out fell from the sky. We are so grateful for the transfers who came our way."